Home > Director Introduction ? Message


Our commitment to one day surgery from the patient's perspective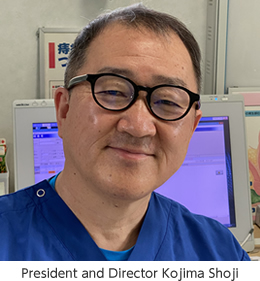 Hemorrhoids can be a very delicate topic and often many are troubled by it, but find it hard to seek help. Kojima Protology Clinic, based in Akashi, is a clinic that specializes in proctology and has helped patients solve their problems.
"Hemorrhoid surgery generally requires patients to be hospitalized. But at our clinic, one day surgery is mainly performed.", says Director Dr. Kojima. Dr. Kojima has been covered in newspapers and TV, and is a professional in proctological treatment.
"Treatment that does not require long term hospitalization is selected. Even if it is a very complex surgery.", says Dr. Kojima, who is persistent on his commitment to one day treatment. What is the merit?
"First of all, the patients' financial burden can be reduced. Also, it is convenient for patients who find it difficult to take long vacations and therefore can only be treated by one day surgery. But the best part of one day surgery is being able to return to your home on the same day. It can be very stressful to be hospitalized. Being able to relax at home is very important for the patient."
One day surgery has many merits, but Dr. Kojima instructs that there are some risks when compared to a well-maintained hospitalization after surgery.
"As I have previously stated as a merit, the patients' freedom can be a risk. We are able to limit the amount of freedom when the patient is hospitalized. Advancements in technology have allowed us to reduce those risks." Other clinics have set up a system where the physician in charge of the patient can be contacted immediately 24 hours a day if anything occurs after surgery. But it is very uncommon to develop into such cases states Dr. Kojima. This shows that after surgery has been performed, treatment was a success.
By acquiring greater techniques, we provide treatment that goes beyond healing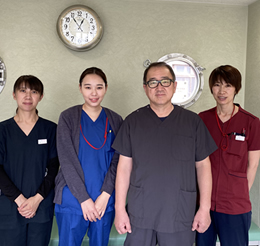 Not only can Kojima Proctology Clinic cure various diseases such as hemorrhoids, anal fissures, anal fistulas, etc., but we hold a strong belief in the details of our treatment.
"We do not want to leave any damage to the anus. For example, if the anus becomes hard and loses its softness due to damage from surgery, it will permanently remain damaged. The anus is a living internal organ and functions as the last most important excretory organ. So what becomes important is that it has power and softness. Also, bowel movements should not be painful. In order to maintain its function, we must take that into consideration when performing surgery. I believe that the period of just treating has ended, and now times have changed to where patients receive treatment that allows them to lead comfortable lives.
Overcoming the hardships as a proctology college, and aiming for the discovery of unseen treatments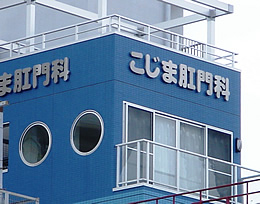 It has been 25 years since the establishment of Kojima Proctology Clinic, and now it has grown to become Hyogo Prefecture's leading clinic specializing in proctology. Dr. Kojima was previously a surgeon, and he states that it was not all smooth sailing from the beginning.
"There were many times where not even one patient would come, and to be honest this was not enough to make a living. There were many other proctologists who held other jobs as surgeons, gastroenterologists, etc. That is the reason why there are very few doctors who only practice proctology."
As the 36 year old Dr. Kojima opened his clinic with his youth and motivation as his tools, he was not afraid to move forward. Dr. Kojima's pleasant personality and personal relationships have led him to the path needed to create the clinic we see today.
"There were times where I made little progress technically. But that was only temporary, and after overcoming that hurdle, people show their true strength."
Dr. Kojima holds a strong passion not only as a professional in Proctogoly, but also as an individual. So where will his passion lead him to?
"With the increasing aging population, patients who suffer from bowel incontinence due to anal sphincter deficiency have been increasing. In the future, I would like to establish a treatment for those patients who suffer from anal sphincter deficiency. From a long term persective, I would like to increase the size of our clinic, train young doctors, and with them establish more international treatment methods. In order to achieve this goal I will continue to devote myself to being a professional in this field."


From Kojima Shuji, Director of Akashi Uonotana Clinic
Since the opening of the clinic in April 1997 near Akashi station, 25 years have passed and we have gained the trust of our patients as a Proctology clinic that specializes in one day treatment. We are also recognized as a top level clinic in the Kinki area (4/4 Article from Yomiuri Newspaper). We have also been mentioned in Yomiuri Newspaper Weekly as a "Specialist recommended by doctors," and in Kobe Newspaper as a "Good Doctor (Hospital of Choice)." I, Director Kojima have performed over 30,000 surgeries, and have gained the trust and support from many patients.
Features of our clinic:
Specializing in anal diseases especially hemorrhoids
Treatment is performed on the same day

1300~1400 surgeries performed per year, Sugery results/recurrence rates are shown below

Hemorrhoid-Ligation Resection 0.3%
Zion Four Stage Injection Metho 3.0%
Sorting Ligation Method  0%
Anal Fistula Radical Surgery (Seaton Method) 0.8%

Treatment is performed under the guidelines outlined by health insurance
Make every effort to relieve patients' "sufferings"
Consultation Wednesday Closed (Please contact us by email)
Everyday the director looks over recent national and international information on not just hemorrhoids, but anal diseases in general. Please feel rest assured as the clinic has the required inspection equipment, treatment techniques, and in the case of a complication, a full response capability to diagnose hemorrhoids. Our clinic is conveniently located within 5 minutes walking distance from Akashi station. We are also open on Sundays, holidays, and Thursday afternoons.